LONGINES FEI Jumping World Cup™
Since 1979, the World Cup has been played out in several leagues spread across 5 continents.
Launched in 1979, the LONGINES FEI Jumping World Cup ™ circuit is contested through 3 leagues: North America, Europe and China. The first competition to be run indoors, it determines the 40 riders who will compete in the final in Las Vegas this year. The Jumping International de Bordeaux is hosting the 13th and penultimate stage of this extraordinary circuit.
The European League is the largest, since it qualifies 18 riders; indeed, Europe boasts the majority of the dominant nations in this sport such as Germany, Great-Britain, and France.
2020 podium
1st place ▶︎ Steve Guerdat avec Victorio Des Frotards
2nd place ▶︎ Daniel Deusser avec Jasmien v. Bisschop
3rd place ▶︎ Niels Bruynseels avec Ilusionata van't Meulenhof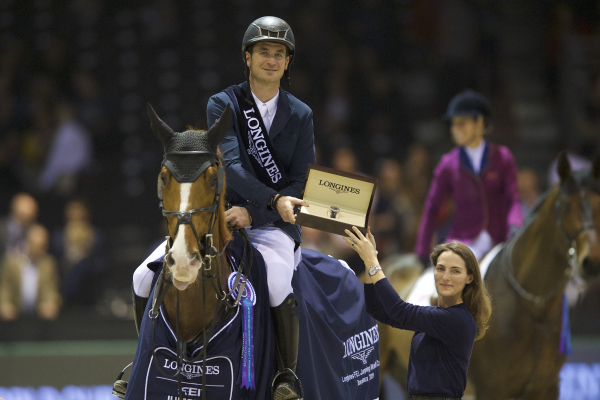 LONGINES FEI JUMPING WORLD CUP™ - 1ère place ▶︎ Steve Guerdat avec Victorio Des Frotards - ©Christophe Bricot
Résultats détaillés L'épreuve en photos
Riders engaged list 2020
European Show Jumping League 2019/2020
1. Oslo (NOR) : from October 16th to 20th 2019

2. Helsinki (FIN) : from October 24th to 27th 2019

3. Lyon (FR) : from October 30th to November 3rd 2019

4. Verona (IT) : from November 7th to 10th 2019

5. Stuttgart (ALL) : from November 13th to 17th 2019

6. Madrid (ESP) : from November 28th to December 1st 2019

7. La Coruña (ESP) : from December 13th to 15th 2019

8. London Olympia (GBR) : from December 16th to 22th 2019

9. Mechelen (BEL) : from December 26th to 30th 2019

10. Basel (SUI) : from January 9th to 12th 2020

11. Leipzig (ALL) : from January 16th to 19th 2020

12. Amsterdam (NL) : from January 23th to 26th 2020

13. Bordeaux (FR) : from February 6th to 9th 2020

14. Göteborg (SWE) : from February 19th to 23th 2020
Palmarès LONGINES FEI Jumping World Cup™
2020 : Steve Guerdat & Victorio Des Frotards (SUI)
2019 : Daniel Deusser & Tobago Z (GER)
2018 : Pieter Devos & Espoir (BEL)
2017 : Julien Epaillard & Quatrin de la roque LM (FRA)
2016. Kevin Staut & Rêveur de Hurtebise (FRA)
2015 : Bertram Allen & Romanov (IRL)
2014 : Marcus Ehning & Cornado NRW (GER)
2013 : Hans-Dieter Dreher & Magnus Romeo (GER)
2012 : Kevin Staut & Silvana*HDC (FRA)
2011 : Philip Weishaupt & Catoki (GER)
2010 : Marcus Ehning & Leconte 6 (GER)