Les jeunes cavaliers sont à l'honneur pendant le Jumping International de Bordeaux.
Le Derby Poneys : l'occasion pour les plus jeunes de venir fouler les traces des plus grands !
Très appréciée du public, cette épreuve se déroulera le samedi 8 février 2020 à 14h30 sur la piste principale du
Jumping International de Bordeaux.
Watch the replay of the Derby Poneys event, 2019 edition :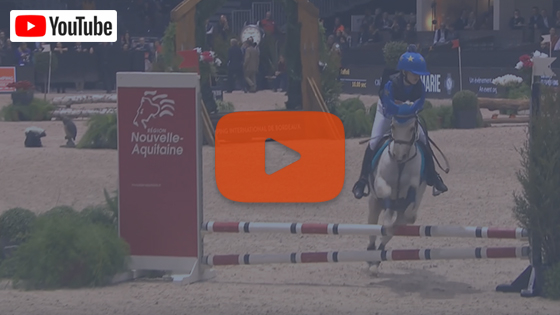 Description de l'épreuve :
Le parcours utilise la piste principale (35x79m). Il comprendra environ 5 obstacles fixes et 5 mobiles.

Les obstacles comprennent, entre autres : des haies, des dômes, un œil et quelques obstacles de CSO.
Hauteur max de la partie fixe : 60 cm.

Épreuve Derby Cross Poney 2 B

Barème A au chrono

Distance : entre 400m et 600m
Qui peut se qualifier ?
Licence FFE Club 2020 à jour et enregistrée dans un centre équestre de Nouvelle-Aquitaine

Tenue cross obligatoire (casque, gilet de protection de cross, porte dossard, fiche médicale) aux couleurs du centre équestre

Participation à l'épreuve qualificative obligatoire et qualification à l'issue de cette épreuve
Poneys de catégorie B de 6 ans et plus (déclaré B sur le site de la FFE)

Un poney par cavalier

Le livret de signalétique du poney est exigible (vaccinations à jour)

Le jour de l'épreuve, les poneys devront se présenter si possible tondus
Rappel des conditions de qualification :
Le couple cavalier/poney doit avoir participé et terminé entre le 1er Avril 2019 et le 1er Décembre 2019 (hors Championnats de France GOF à Lamotte Beuvron) : 2 concours complet niveau Poney 2 ou Poney 1 OU 1 concours complet et 1 derby (cross ou eventing) niveau Poney 2 ou Poney 1.
L'épreuve qualificative aura lieu en décembre à Lège Cap Ferret - et sera l'épreuve Derby Cross Poney 2 Individuel. 
Les 12 meilleurs couples de cette épreuve seront qualifiés pour l'épreuve de Derby Poneys du Jumping International
de Bordeaux, sous réserve d'éligibilité (cf conditions requises et conditions d'engagement).
Les couples souhaitant participer doivent se déclarer auprès de m.aldebert@bordeaux-expo.com avant le 17 Novembre 2019. (Nom de cavalier, nom de cheval, numéro de licence et numéro SIRE du poney)
Consulter le règlement du Derby Poneys 2020
Retour sur l'édition 2019
Les plus petits champions 2019 sur les traces des plus grands.
Ils nous ont éblouis par leurs prouesses :
Arthur Lepetit & Titus Elvey        
Antoine Chaigne & Victoire de Micky        
Clea Toffoli & Trachten des Asteries
Derby Poneys EQUI-KIDS by EQUITHEME - 1er Titus Elvey et Arthur Lepetit - ©SPORTFOT
Consultez les résultats complets de l'édition 2019 Le Derby Poneys en images