For the third time, Jumping International de Bordeaux is organizing an incredible Horseball match.

What is horseball?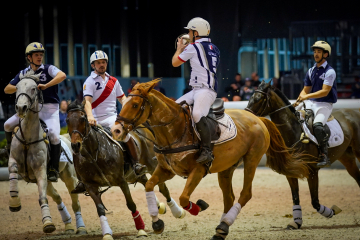 HORSEBALL - ©ArtisteAssocié
Horseball is a collective equestrian sport, invented in France at the end of the 1970s.
It is a reference throughout the world, as the French team is undefeated since the creation of international events in 1992: European and World champion. The French team brings back many gold medals every year!
A ball, 6 players per team, a 70x30m arena with 2 goals at the ends, do not keep the ball in your hands for more than 10 seconds, make 3 passes before you can score a goal, do not dismount to pick up the ball ... Simple rules for a simple goal : score as many goals as possible through attack and defense strategies.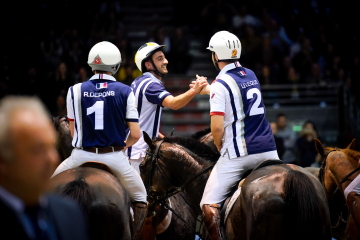 HORSEBALL - ©ArtisteAssocié
To the speed of the horse is added the one of the ball... Goals, great collective actions, goals and more goals, speed and technicality... A true show!
Supporters, players and coaches qualify horseball as a "sport/spectacle", because its interest is also linked to its spectacular, fast and technical aspect.
The Jumping International de Bordeaux invites you to a unique encounter in a supercharged atmosphere!
Game Result
It was the Legends team that came out on top in a very entertaining game!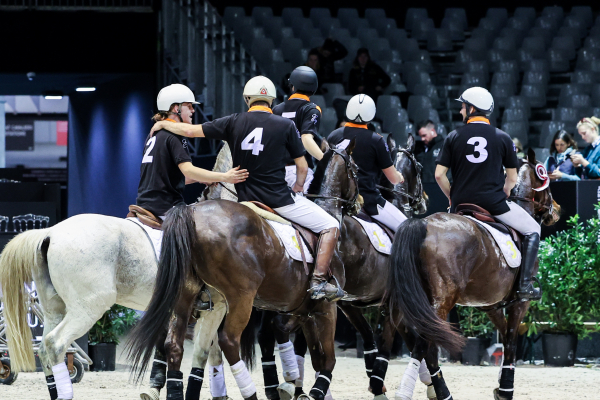 Match de Horseball - Remise des Prix - © Artiste Associé