"Nuit Ibérique", an enchanting Iberian interlude
The Jumping International de Bordeaux was delighted to present "Nuit Ibérique", a new show dedicated to Iberian horses, performed by three famous equestrian schools (Jerez, Lisbon and Saumur) together with the Hasta Luego troupe.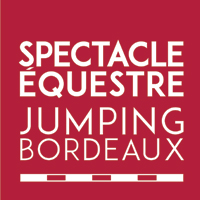 It was spectacular, with a novel staging, created by the masters of the discipline, reveal their full potential and grace. 
Over the past 45 years, the Royal Andalusian School of Equestrian Art in Jerez has promoted the reputation of Iberian breeds through the practice of equestrian art. The School is their temple and preserves Andalusian equestrian culture, as seen in the balletic performances enacted in period costume by its renowned trainers and their mounts.
The 'Iberian Night' show also was included a solo number from the Jerez School inspired by movements that form part of Grand Prix dressage events. Not surprisingly, Iberian breeds frequently excel in this Olympic discipline.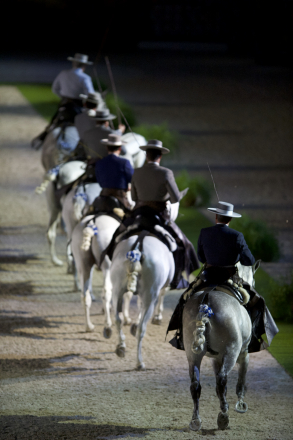 Spectacle Nuit Ibérique - Ecole Royale Andalouse d'Art Équestre de Jerez - ©christophebricot
"An authentic meeting amongst the three big schools of equestrian arts and a family of artists as well."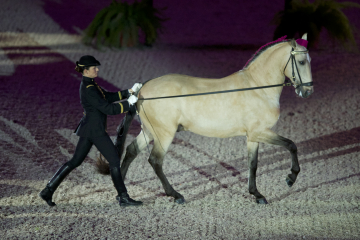 Spectacle Nuit Ibérique - le Cadre Noir de Saumur - ©christophebricot
The Portuguese School of Equestrian Art in Lisbon, with its world-famous ancestral equestrian tradition, has also been participating in "Nuit Ibérique". This academy only uses the bay-coloured Lusitano horses of the Alter Real lineage.
Rhythm, tempo and co-ordination are the hallmarks of the tableau it presented in Bordeaux with its mythical pas-de-trois. The third and final academy is the Cadre Noir from Saumur, whose legendary riding masters gived an elegant number with long reins and their one Iberian horse.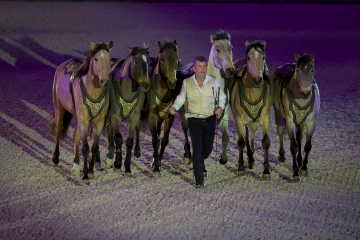 Spectacle Nuit Ibérique - Hasta Luego - ©christophebricot
In addition to the performances of these three major schools of equestrian arts, the family-run troupe Hasta Luego, heirs to the circus-performer tradition, gived a number brought to us directly from the Iberian peninsula. The public was be bowled over by this extraordinary, most magical of ballets freely executed without reins or any other form of restraint, in which an imperceptible link appears to unite man and horse.