Presented in two parts, this evening has presented you a unique program, based on rhythm and poetry.
An evening of pure emotion on thursday 2 februay 2023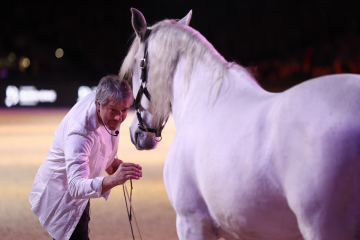 Animation - Jean Francois Pignon - © Artiste Associé
1st part : Jean-François PIGNON and his horses in freedom
Jean-François Pignon, artist and autodidact, has presented his new show.
A true ode to beauty and grace, experience the enchantment of a 14-horses dance.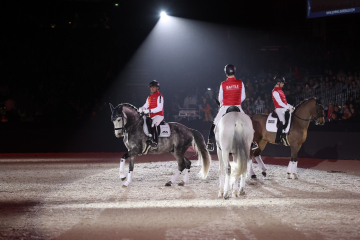 Animation - Battle Dressage - © Artiste Associé
Part 2 : a breathtaking dressage battle !
For the second part of the evening, the elite of French dressage riders has knocked down the codes of their discipline. Festive atmosphere, music, rhythm and energy, amateurs and neophytes have rediscovered the values and technical skills of high-level dressage during these unique BATTLES.