Super As Poney Elite by FLEX-ON ®
The pony riders, aged 18 and under, brilliantly displayed their championship skills !

Super As : the ponies excellence !
The riders, all under 18 years old, run with their ponies through a course made of dizzying jumps and requiring high technicality. The Jumping International Bordeaux was more than pleased to welcome these young talents especially after this class has received a new label: SUPER AS since 2018.
The SUPER AS circuit gather a few events, famous for their organizational skills and prestige. Its purpose is to support detection of riders and ponies ready for international events and for the composition of the France Pony team.
Podium 2023
1st place : Brune Faivre on Qopper der Lenn
2nd place : Zoé Marechal on Berlioz D'Henann
3rd place : Kilian Rouchvarger on Cabott Cove du Pena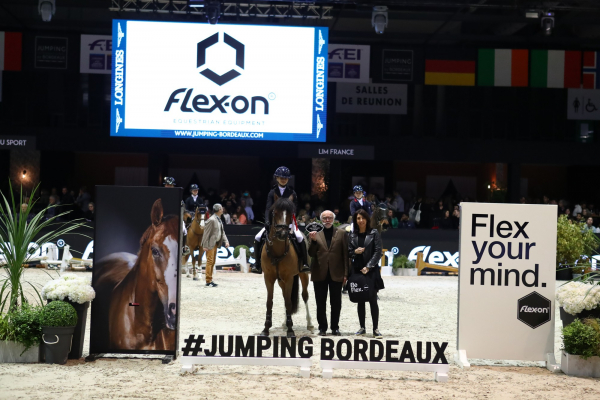 Horse Republic Super As Poney Elite by FLEX-ON ® - Vitesse - Remise des prix - © PSV
1st place : Paul Barussaud sur Vahine de Kergroix
2nd place : Gaetane Orhant sur Champagne D'Ar Cus
3rd place : Kiara Maurel sur Batista de Treho
Discover the selection SUPER AS PONEY ELITE 2023 :
| | | | |
| --- | --- | --- | --- |
| Cavalier | Club | Equidé | Coach |
| GAETANE ORHANT | ECURIES CLAUDE CASTEX (14) | CHAMPAGNE D'AR CUS | CLAUDE CASTEX |
| LOU ANN BERAUD | C E DE LA ROCHE (42) | UNGARO OF QOFANNY | PATRICK VALLAT |
| ESTELLE SALOME | CENTRE EQUESTRE D AURIN (31) | BOX OFFICE DU PENA | EMMANUEL ESTRADE |
| LANA MESSINA | ELEVAGE DES LYRES (28) | KASPER'S RONALDO | LAURENT DUBOIS |
| PRUNE FRALIN | CENTRE EQUESTRE DU ROUGET (77) | CHIMMERDOR DYA  | CELINE GIRAUT |
| MELISSA RODRIGUES MIRANDA | ECURIE DES LICES (83) | EKINOXE AMZER SO | KELLY BOUNOUS |
| KIARA MAUREL | CENTRE EQUESTRE PACHKA (34) | BATISTA DE TREHO | MARIE BELTRAN |
| ZOE FREELAND BEDON | LES PONEYS DE ZOE (79) | BLUE BIRD DU LIN | EMILIE FREELAND |
| AXELLE POTTIER | ELEVAGE DE POTTIERE (27) | VVALNUT GROVE DU PENA | CHRISTELLE LENOT |
| ZOE MARECHAL | ECURIES D ATTILLY (77) | BERLIOZ D'HENANN | DOMINIQUE LACAM |
| PAUL BARUSSAUD | PONEY CLUB DE PALOUMEY (33) | VAHINE DE KERGROIX  | ROMAIN BARUSSAUD |
| BRUNE FAIVRE | ACF (41) | QOPPER DER LENN | / |