FEI Driving World Cup™ final
Jumping International de Bordeaux hosts the FEI Driving World Cup™ 4-Horse Driving Final !
Be prepared for an intense competition with the best drivers in the world
The FEI Driving World Cup™ was launched in 2001, and Bordeaux was one of the events on that inaugural series!
The FEI Driving World Cup™ four-in-hand circuit is a 100% European affair, with 7 qualifying rounds open to the world's top ten drivers. The drivers select their competitions in groups of 5. Each driver may only take part in four competitions, and only their best three results are counted.
Competitors who pick up points in each competition, and the top six on the overall leader board, will qualify for the final at the Jumping International of Bordeaux, on Sunday February 5th at 16h45.
1st place : Boyd Exell
2nd place : Bram Chardon
3rd place : Ijsbrand Chardon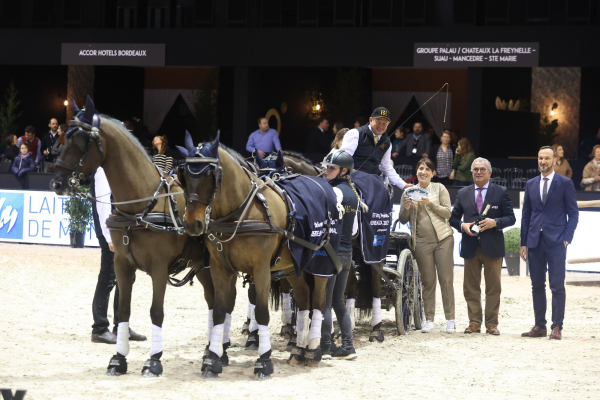 CAIW - FEI DRIVING World Cup™ FINAL by LAITERIE DE MONTAIGU 1ère manche - Remise des Prix - © Artiste Associé
Detailed results of saturday Detailed results of sunday
Pictures of saturday competition Pictures of sunday competition
The final was back in Bordeaux !
In 2023, the Jumping International de Bordeaux has once again hosted the final of the FEI Driving World Cup™ final. This thrilling and sorely underrated discipline has a strong following in Bordeaux.
Driving is one of the most fascinating disciplines of equestrian sport, and certainly one of the most spectacular. The world's best drivers have made the trip to Bordeaux an annual pilgrimage, and never fail to put on a show! It takes an incredible amount of skill to drive four horses galloping at full pace, around a course littered with various obstacles.
These world's best driver sincerely appreciate the atmosphere in the arena of the Jumping International de Bordeaux, considered one of the finest locations in the world for competitive driving, and there is always competition for places even when Bordeaux is simply one of the qualifying events.
Palmarès FEI Driving World Cup™ FINAL
2023 : Boyd Exell (AUS)
2020 : Boyd Exell (AUS)
2019. Bram Chardon (NED)
2018. Boyd Exell (AUS)
2017. Boyd Exell (AUS)
2016. Ijsbrand Chardon (NED)
2015. Boyd Exell (AUS)
2014. Boyd Exell (AUS)
2013. Koos De Ronde (HOL)
2012. Boyd Exell (AUS)
2011. Ijsbrand Chardon (NED)
2010. Thibault Coudry (FRA)