Indoor cross country test !
Initiated in 2014, and for the first time in France during the Jumping International de Bordeaux, this indoor derby gathered the best eventing riders for a breathtaking class that set the public alight.
Again this year, this indoor cross was as thrilling as expected, both for the spectators and the best world riders who once again came to participate to this unique competition during the Jumping International de Bordeaux.
Friday evening session - Photos
Startlists & Results
Ranking:
1st: For Germany, Michael Jung and his young mare Corazon!

2nd: French Maxime Livio aboard Baleybawn

3rd: Rodolphe Scherer and Coeur de Crack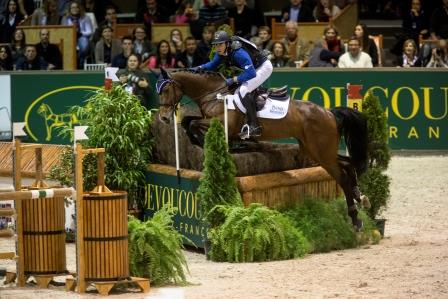 A first in 2014
The Jumping International has promoted driving through the different classes' offered during the event, and decided in 2014 to honor another discipline of the equestrian sports, eventing. Authentic cross-country installed among the main arena and the warm-up arena, the Devoucoux Indoord Derby is a course composed by twenty fixed and showjmping-typed obstacles over a one kilometer ride. But be careful not to mixed up this competition with a true eventing one. The Devoucoux Indoor Derby is a version halfway between the cross and the hunting course that came back to the grid these past few years.
This year, the French riders will be even more celebrated as they have earned their qualification for the Olympic Games of Rio last October, by winning two medals at the European Championships (which took place in Blair Castle, Scotland). One thing to highlight, Sidney Dufresne, who won consecutively Stuttgart and Geneva with his horse Looping de Buissy, will be participating to the competition of Bordeaux.
Rare indoor show, unique in France, but that the public of Bordeaux passionately adopted since two years.