The Bordeaux Salon du Cheval
The Salon du Cheval de Bordeaux will be back, bigger and better than ever, from 2nd to 5th February 2023! The Jumping International de Bordeaux team has created an even bigger space to satisfy demand, and offer a salon which is richer than ever. This bustling horse fair will boast nearly 250 stands and over 50 hours of demonstrations and events in the two dedicated rings.
Highlights of the Salon
Shopping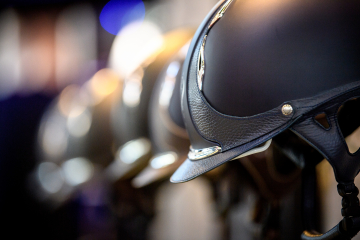 The Salon du Cheval de Bordeaux is as diverse as it is comprehensive, with everything from traditional saddlery to the latest technological innovations in equestrianism, and of course equine well-being.
Equipment, transport, nutrition, services, infrastructure, care: a panoply of solutions to satisfy your every need. Whatever your discipline, your level or your style, you're sure to find the right product for you.
While you explore the exhibition, take a break and succumb to the culinary temptations of the many food stands, a great opportunity to indulge in some local delicacies.
Demonstration and events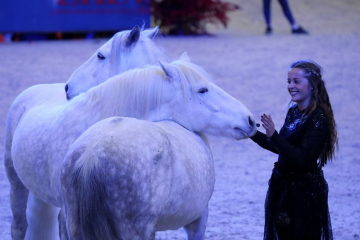 ©Jeff Graphy
Right at the heart of the Salon du Cheval de Bordeaux, two arenas will play host to a rich and varied programme of demonstrations and shows across the 4 days. The programme included circus stunts, pony games, equifun, cart driving, handisport and a varied array of demonstrations exploring all aspects of equestrian cultures and traditions.
Horses and performers from all over Europe took to the ring, wowing visitors of all ages with their breath-taking, creative displays. Whether you're a seasoned rider or just a curious spectator, there is sure to be something for everybody!
Sharing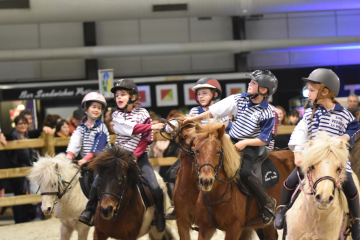 The Salon du Cheval de Bordeaux also provides a precious opportunity to meet and mingle with horse care professionals. 2019 saw the first edition of the Equine Health Forum, with experts on hand throughout the event to discuss matters of animal health and well-being. A goldmine of useful information for all horse-lovers, amateurs and professionals alike, not to mention horse owners and specialists from other sectors.
The Salon du Cheval de Bordeaux is also a highlight of the year for breeders, thanks to the Bordeaux Stallions Show. This unique event, organised alongside an international competition of the highest level, is an unmissable opportunity for stallions owners and industry experts to talk about horses. From illustrious sires to young hopefuls, the last edition of the Bordeaux Stallions Show welcomed more than 60 stallions, including specialists in all disciplines. An invaluable opportunity to meet with professional breeders, helping you to plan ahead for a successful breeding season.
Meet and Greet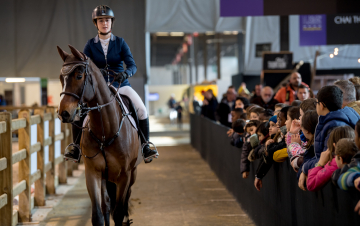 Le Jumping International de Bordeaux gets you closer than ever to the sport you love.
A unique opportunity to meet some of the world's greatest champions, and watch them warm up from a front-row seat in the practice arena, right in the heart of the Salon du Cheval.
Activities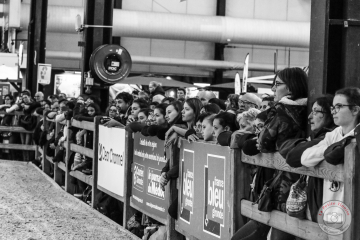 At the Salon du Cheval de Bordeaux there is something for the whole family, with a vast array of activities sure to delight young and old alike: horseback laser games, equifun, cart driving…
In years gone by the Pony Club has been a huge hit with our younger visitors, offering little ones a chance to take their first every pony ride under the watchful eye of our trained instructors. The Salon also hosts a number of fun workshops