The Bordeaux Salon du Cheval
The Bordeaux Salon du Cheval is back and in great style! Organised by the Jumping International de Bordeaux, it extends a warm welcome to a growing audience with an ever-wider range of events and activities on offer. The Salon runs for four days with over 200 exhibitors' stands to explore and 30 hours of activities to enjoy in its two arenas.

Highlights of the Salon
Shopping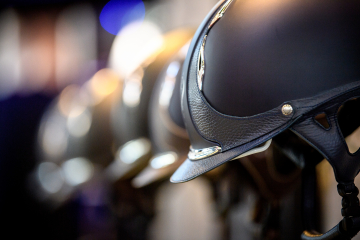 The Bordeaux Salon du Cheval is first and foremost a panorama of goods and services ranging from the traditional savoir-faire of the saddlery world to the use of new technologies for riding and equine well-being.
A complete array to meet all your needs: equipment, transport, food, services, infrastructures and care. Whatever your discipline, level or taste, you are bound to find what you are looking for. 
As you wander through the shopping alleys, why not treat yourself in one of the restaurants or cafés and try a local speciality ?
Events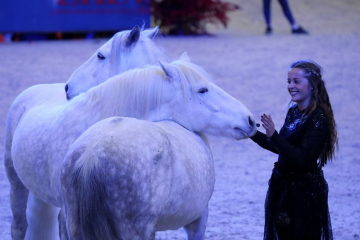 ©Jeff Graphy
Two arenas located at the heart of the Salon have been given over to a rich and varied programme of events for the Show's duration. These include vaulting, pony-games, equifun, driving and para sport, as well as demonstrations of novelties such as the horseback laser game and ways of using horses for work that combine equestrian culture and tradition. Also, there were performances with horses and artists from around Europe – remarkable shows that draw upon their individual universes, suitable for young and old. Whether you are a rider or an interested member of the public, we promise there will be something for everyone!
Sharing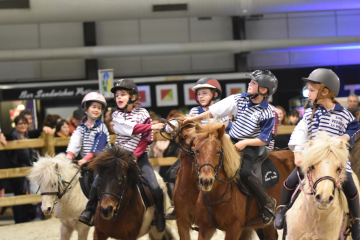 The Bordeaux Salon du Cheval also provides an opportunity to interact with professionals in the equestrian world. This year's novelty is the Equine Health Forum with experts in the fields of equine health and well-being present throughout the Salon to convey their know-how. A mine of information for all those involved with riding – amateur and professional riders, owners of sports and leisure horses – and specialists in other sectors.
Breeders was also given pride of place at the Bordeaux Salon with this year's Stallions Show, a unique event organized in parallel with a top-level international competition. Stallion breeders are at hand to welcome you to their stands and present their stock. Come and discover more than 60 stallions, both proven and promising young representatives of different breeds from all disciplines, and talk to professionals in the field to help you determine your own choice of cross-breeding at the start of this next reproduction season.
Encounters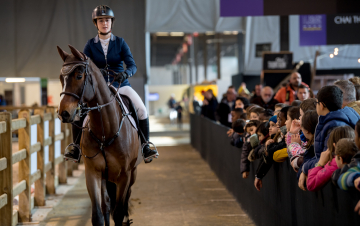 The Jumping International de Bordeaux allows you to experience top-level sport at close quarters.
It is a unique opportunity to encounter the world's top riders and watch their warm-up sessions thanks to the strategically located paddock at the very heart of the Salon du Cheval.
Activities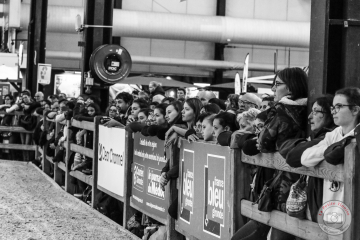 The Bordeaux Salon du Cheval is the perfect family outing, with a wide range of activities for both big and small.
The Pony Club is a particular favourite with young children, perfect for their first ride, safely watched over by qualified monitors. Fun, instructive workshops relating to horses are also organized.