Do you want to experience sport up close?
Then come explore backstage at the Jumping International in Bordeaux.
Since 1973, the show has welcomed top-level riders to contend in its prestigious events.
Behind the scenes, away from the bright lights, there's a whole team at work to provide them with the very best conditions and ensure the show runs smoothly. A miniature universe with its own joys, camaraderie and most of all, passion.
The organisation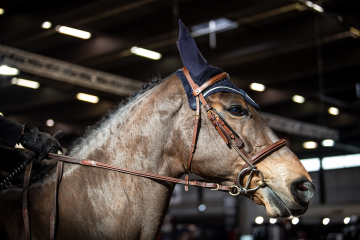 ©ArtisteAssocié
Throughout the weekend, riders and horses are part of a non-stop ballet between stables, paddock and arena.
The organisers deploy both human and material means to ensure that everything runs smoothly every day. Dedicated, enthusiastic teams that enable each year's show to be a time of affability and sharing.
The stables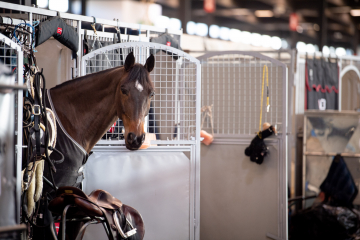 ©ArtisteAssocié
For the riders, performing in the arena is the culmination of a vast amount of work. From the moment, they arrive at the exhibition park in Bordeaux, the horses are housed in a "5* hotel" where the grooms spends many hours caring for them: showers, grooming, massage – nothing is too good for these athletes. The horses are also taken to the paddock to warm up before each round or to loosen up in the morning after a good night's sleep. For visitors to the Bordeaux Horse Show, the paddock, therefore, is an excellent place to see these international champions at close quarters.
The obstacle courses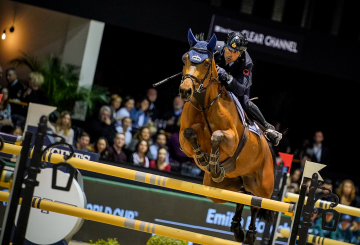 ©ArtisteAssocié
As soon as the course designer has finalised the layout, the riders pace it on foot to memorise it and assess its main difficulties. After this crucial stage, any final adjustments for riders and their mounts are made in the paddock. The long-awaited moment has finally arrived: the duo enters the arena, crosses the starting line and the public holds its breath. The jumps ensue in rapid succession as time flashes by – oxers, verticals, doubles, triples, as high as 1.6m at Grand Prix level. Over the last one and the public explodes, paying tribute to the pair's performance irrespective of nationality.
After the victory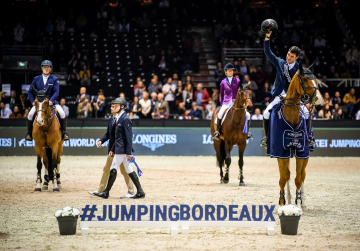 ©ArtisteAssocié
At the end of the class, rankings are drawn up and the duo with the best circuit (no faults and fastest speed) is pronounced the winner. A victory is always a highpoint in a rider's life.
In addition to the horse and rider, it's the whole team behind them who are recompensed: grooms and trainers, owners and families who follow them around the world. The victorious duo returns to the arena one last time, applauded by the public. With cup in hand and a well-earned caress for the faithful mount, horse and rider set off for a final round of the arena, cheered on by the crowd.
Relive the highlights of the Jumping International de Bordeaux in a selection of photographs from previous years. And above all, don't miss the 45th year which runs from 4-7 February 2021 in Bordeaux's Parc des Expositions