Ce billet vous donne accès gratuitement et en illimité au Salon du Cheval pendant les 4 jours de l'événement.
Une soirée placée sous le signe de la performance artistique & de l'émotion.
Rendez-vous Jeudi 6 février à 20h30 au Parc des Expositions de Bordeaux pour une soirée riche en couleurs !
Tarifs - en euro et TTC
Catégorie I :
Catégorie II :

Tarif normal : 34€ | ÉPUISÉ
Tarif réduit** : 30€ - N° licence obligatoire | ÉPUISÉ
Programme de la session
20H30 - 21H30 |Renowned equestrian artists & musical choreographies
On the main scene, enthusiasts and European dressage champions will present you completely new artistic creations in music : rhythm, energy, choreography, musical interpretation. Discover during this evening, renowned equestrian with emotions and surprises !
22h-23h | Guest of honour in 2020 : The French Républican Guard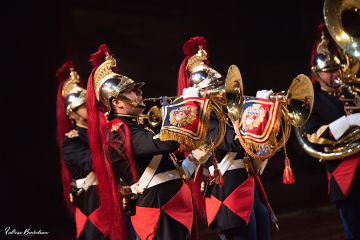 ©Fabrice BOURDEAU-PHOTOGRAPHIE
The French Republican Guard will be accompanied by renowned equestrian artists. It illustrates panache and precision of mounted equestrian regiments. Accompanied by the cavalry band, this colorful show will perform a series of choreographies : Carrousel des Lances, Reprise des 12, Pas de 2 et Reprise des Tandem.
Book your place now !