FEI Driving World Cup™ FINAL
The Jumping International de Bordeaux hosted FEI Driving World Cup™ FINAL from saturday 8th to sunday 9th february 2020
Riders engaged list Startlist & Results
The first FEI Driving World Cup™ was launched in 2001 and Bordeaux was already one of its stages at that time!
The FEI Driving World Cup™ for Four-In-Hand Championships are exclusively held in Europe comprising 9 qualifiers and reserved for the 10 best drivers in the world.
These drivers may choose their events by groups of 5, bearing in mind that any one driver may only compete in four stages, with only his three best scores being considered.
The competitors earn points at each of the stages and the six best drivers in the overall ranking will be qualified for the final which take place in Bordeaux (FRA), at February 9th, 2020. 
World champions : 
1st place ▶︎ Boyd Exell
2nd place ▶︎Koos de Ronde
3rd place ▶︎ Ijsbrand Chardon
CAIW FINAL n°2 - FEI DRIVING WORLD CUP™ FINAL – Remise des Prix - ©Christophebricot
1st place ▶︎ Koos de Ronde
2nd place ▶︎ Boyd Exell
3ème place ▶︎ József Dobrovitz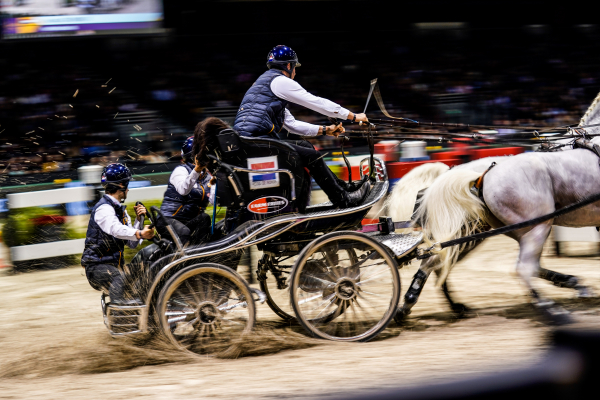 CAIW FINAL n°1 - FEI DRIVING WORLD CUP™ FINAL - 1ère place Koos de Ronde - ©ArtisteAssocié
Palmarès FEI Driving World Cup™ FINAL
2020 : Boyd Exell (AUS)
2019. Bram Chardon (NED)
2018. Boyd Exell (AUS)
2017. Boyd Exell (AUS)
2016. Ijsbrand Chardon (NED)
2015. Boyd Exell (AUS)
2014. Boyd Exell (AUS)
2013. Koos De Ronde (HOL)
2012. Boyd Exell (AUS)
2011. Ijsbrand Chardon (NED)
2010. Thibault Coudry (FRA)