Longines FEI World Cup™ Jumping
Since 1979, the World Cup has been played out in several leagues spread across 5 continents.
The 40 riders who will compete against each other during the final in Paris, France, from April 10th to 15th 2018 has been selected!
The European League is the largest, since it qualifies 18 riders; indeed, Europe boasts the majority of the dominant nations in this sport such as Germany, Great-Britain, and France.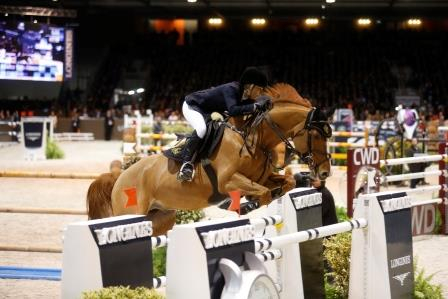 European Show Jumping League 2017/2018
1. Oslo (NOR) : October 12th to 15th, 2017

2. Helsinki (FIN) : October 19th to 22th, 2017

3. Lyon (FRA) : October 26th to 29th, 2017

4. Vérone (ITA) : November 01st to 05th, 2017

5. Stuttgart (ALL) : November 15th to 19th, 2017

6. Madrid (ESP) : November 23rd to 26th, 2017

7. La Corogne (ESP) : December 08th to 10th, 2017

8. Londres (GBR) : December 12th to 18th, 2017

9. Malines (BEL) : December 26th to 30th, 2017

10. Leipzig (ALL) : January 18th to 21th, 2018

11. Zürich (SUI) : January 26th to 28th, 2018

12. Bordeaux (FRA) : February 01st to 04th, 2018

13. Göteborg (SUE) : February 21th to 25th, 2018

FINALE in Paris (FRA) : April 10th to 15th, 2018
Palmarès Longines FEI World CupTM Jumping
2018. Pieter Devos & Espoir (BEL)

2017. Julien Epaillard & Quatrin de la roque LM (FRA)

2016. Kevin Staut & Rêveur de Hurtebise (FRA)

2015. Bertram Allen & Romanov (IRL)

2014. Marcus Ehning & Cornado NRW (GER)

2013. Hans-Dieter Dreher & Magnus Romeo (GER)

2012. Kevin Staut & Silvana*HDC (FRA)

2011. Philip Weishaupt & Catoki (GER)

2010. Marcus Ehning & Leconte 6 (GER)